Fred Meyer delivers innovative approaches to solving hunger
September 21, 2018 – When you think of iconic Oregon grocers, the first that comes to mind is Fred Meyer. Known among its long-time customers as Freddy's, the store is a northwest institution. But what many don't know is that Fred Meyer has worked alongside Oregon Food Bank for more than 20 years to eliminate hunger and its root causes.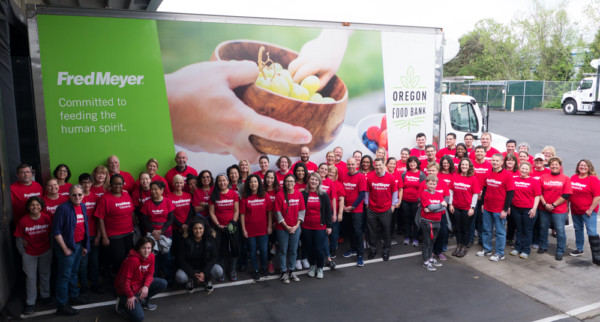 Every month, Oregon Food Bank provides nutritious food to 260,000 people across Oregon and Clark County, Washington through a distribution network of 21 regional food banks and 1,200 food assistance sites, an endeavor that would not be possible without the support and commitment of long-standing community partners like Fred Meyer. Always on the cutting edge with hunger relief support, Fred Meyer is willing to try new things and keep up with innovative ideas.
"Fred Meyer is honored to be partnered with Oregon Food Bank to help address hunger in our communities," says, Joe Grieshaber, President of Fred Meyer Stores, Inc. "We are proud of the great accomplishments that have been achieved so far and excited about the mutual vigilance to provide more comprehensive solutions in the future."
Fred Meyer is an original partner of Oregon Food Bank's Fresh Alliance grocery rescue program –designed to recover safe, edible grocery items that might otherwise be composted or discarded. Fresh Alliance provides high quality donations of meat, dairy and produce. This successful program has been replicated by food banks across the country.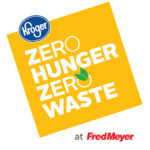 Zero Hunger / Zero Waste, Fred Meyer's bold initiative to eliminate hunger and waste in the communities where it operates by 2025, is another example of how the company is fighting hunger locally. The company is continually shifting its resources and culture to achieve its lofty goals. Last year, Fred Meyer donated about 2.2 million meals and $50,000 to Oregon Food Bank
Fred Meyer employees are also deeply committed to the cause. Every year, groups of volunteers from the company take time to repack food at the Oregon Food Bank warehouse, bringing their own families and friends to share the love of giving back.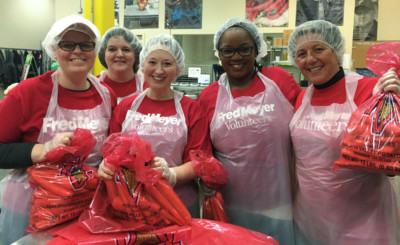 Recently, Fred Meyer launched Hunger Round-Up, a program at check-out where customers have an opportunity to benefit Oregon Food Bank and regional food banks throughout the state. Customers simply round-up their purchase to the nearest dollar, and Fred Meyer will capture these extra funds in a monthly donation for hunger-relief.
Funding from Fred Meyer allows Oregon Food Bank to move more than 50 million pounds of food every year, offer cooking and gardening programs to our neighbors experiencing food insecurity, and operate as a distribution center for food banks and pantries throughout the region. The generosity of Fred Meyer customers, employees and vendors Oregon Food Bank receives is vital to its daily operations.
As Susannah Morgan, CEO of Oregon Food Bank says, "If anyone needs a reminder of why Fred Meyer exemplifies community partnership, just take a look at one of our trucks, supported by donations from Fred Meyer employees. 'Fred Meyer – Committed to feeding the human spirit.'"
September is Hunger Action Month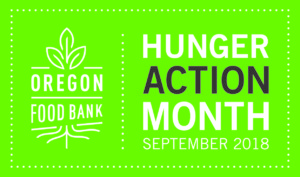 This September, it's easy to take action to fight hunger in our communities. Join Fred Meyer in taking action against hunger by donating, volunteering, advocating or engaging at oregonfoodbank.org/hungeractionmonth. Help Oregon Food Bank reach the goal of 260,000 actions — one action on behalf of each person who accesses a food pantry in a month. Every action feeds the human spirit.