LGBTQ Americans are hungrier than nearly any other demographic
June 14, 2019 – Americans in 30 states can be denied employment just for being transgender. Twenty-eight states allow employers to deny employment to anyone for being lesbian, gay or bisexual. In addition, LGBTQ people face discrimination when accessing healthcare, housing (especially as they age) as well as many other services.
This exclusion from employment and other social protections makes LGBTQ Americans hungrier than nearly any other demographic group:
Food insecurity among LGBTQ adults is more than double the national food insecurity rate*
27% of LGBTQ adults experienced a time in the last year of not having enough money for food that they or their families needed, compared to 17% of non-LGBT adults.*
LGBTQ people of color are twice as likely to experience higher rates of hunger*
The consequences are dire.
Food insecurity exacerbates many chronic illnesses such as diabetes, hypertension, depression and even leads to poorer health outcomes for individuals with HIV.
Exclusion from basic services leads to higher rates of homelessness, discrimination, and loss of support systems to name a few.
"I have started getting assistance with food because our food budget has been down to $100 – $110 per month, sometimes lower than that. If it wasn't being able to get help with food, we wouldn't be eating."

– Gaby
This is unacceptable.
So what is Oregon Food Bank doing?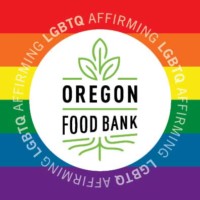 We have partnered with 19 agencies who provide spaces for the LGBTQ community to access food. We evaluated these sites and created this list of LGBTQ Affirming Agencies serving Multnomah, Washington, and Clackamas counties. These agencies are committed to creating a space for LGBTQ community members. This includes speaking out and standing up for a person or a group that is targeted or discriminated against based on sexual orientation, and/or gender identity and/or gender expression. The list also includes other available local and national resources.
At Oregon Food Bank, we care deeply about all people experiencing hunger. Our efforts aim to build a society where everyone can thrive – celebrating our differences and working together to overcome injustices that might divide us… because no one should be hungry.