How do you measure a year? What about love?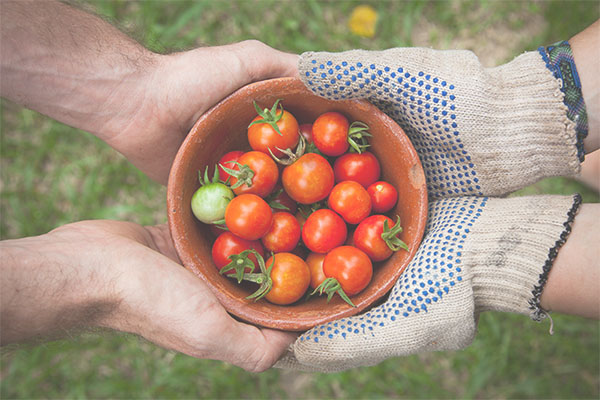 "Love is profoundly political. Our deepest revolution will come when we understand this truth. Only love can give us the strength to go forward in the midst of heartbreak and misery. Only love can give us the power to reconcile, to redeem, the power to renew weary spirits and save lost souls. The transformative power of love is the foundation of all meaningful social change. Without love our lives are without meaning. Love is the heart of the matter. When all else has fallen away, love sustains."

– bell hooks
THE PROFUNDITY OF LOVE
In January 2020, the Community Philanthropy team at Oregon Food Bank (OFB) embarked upon a transformational paradigm shift in our philosophical and practical approach to resourcing an end to hunger and hunger's root causes: As individual staff and as a team, our performance would no longer be evaluated based upon the financial outcomes of our work. Instead, together, we would design and implement philanthropic development programs — and relevant assessments — oriented to new metrics rooted in love, equity and culture.
We sometimes shorthand this change initiative as decentering money to center love and equity. Sometimes we call it measuring a year in love, or MYLove. Sometimes we call it the source of our fears, our inspiration, our uncertainty and our innovation.
It is a journey of our reclamation of philanthropy, honoring philanthropy's true meaning and the word's early Greek and Latin etymology — a love for humankind. It is a vision for what philanthropy has been and is at its best and what it can be: any voluntary action for the common good, driven by love. 
In an infinite universe of possible and yet-uncharted paths toward a more just vision we hold for philanthropy — love is one path. And we believe it is a profound option.
Recently, the transformational change undertaken by Oregon Food Bank's Community Philanthropy team has been covered in national food bank and philanthropy-focused media. And our team is being invited to share our learnings and innovations from the past 18 months widely within the nonprofit sector. 
This blog post is a pause to share with you, our broader community, why this change was paramount to us and how we're implementing it. We hope this offering inspires reflection on your own philanthropy and a stronger relationship between you and Oregon Food Bank.
---
"The enormous task of undoing racist systems feels overwhelming, but this past week painfully reminds us that lives depend on figuring it out. All of us engaged in philanthropy must constantly ask ourselves: What of this work is mine? How can I do it with care and humility?"  –

Lisa Pilar Cowan, Dismantling Racism May Require Philanthropy to Dismantle Itself – June 2, 2020
---
DISMANTLING WHITE SUPREMACY & DECOLONIZING THE PROFESSION
Decentering money has felt radical and overwhelming to OFB's Community Philanthropy team at times (as it reshapes everything we do). 
Often, nonprofit professionals who work in philanthropy are called fundraisers. Even in the "fund-raising" nomenclature, money is at the core. And money can be a gateway to harm as much as it can be a strategy for fulfilling our mission. We believe an orientation to financial outcomes creates the conditions for professional trauma, poor donor experiences and a consequent barrier to nonprofit organizations that aspire to resolve the most pressing moral and societal challenges we face — including Oregon Food Bank.
This is evidenced by: 
These realities demonstrate how the field of philanthropy is imbued with white supremacist and colonial cultural charactersitics that harm nonprofit fundraising staff. And the nonprofit fundraising profession can also exhibit greed and extractive practices to accumulate resources which is harmful to donors. These are difficult truths to hold. By sharing this research and naming these challenges, we are leaning into candor and our shared commitment to building a more just community alongside you. 
And there is hope! What OFB Community Philanthropy staff are beginning to learn: In the profession of nonprofit fundraising, when we decenter money, a massive space opens up for something else. We're filling that space with love. Love for you, ourselves and for our broader community.  
---
"Money should be a tool of love, to facilitate relationships, to help us thrive, rather than to hurt and divide us. If it's used for sacred, life-giving, restorative purposes, it can be medicine. Money, used as medicine, can help us decolonize."  — Edgar Villanueva
---
BOTH/AND — MONEY AS LOVE
If philanthropy is a love for humankind represented by any voluntary action for the common good, a financial, charitable donation can certainly be an act of love. And we don't dispute that!
Instead, the intent of our paradigm shift — decentering money to center love and equity — is to bring into balance love and equity in a profession long-obsessed with financial outcomes. And to ameliorate the harm caused by that past imbalance. 
To be clear, OFB's Community Philanthropy team has financial goals. Without financial resources, OFB could not accomplish its mission! The nuance of our philosophical approach is simply that OFB Community Philanthropy staff will not be evaluated by financial outcomes as a metric. Whether or not we reach our financial goals, we will be held accountable to the performance evaluation metrics we've designed within a framework of equity and love. 
From time to time we're told that we're making a big bet with this theory of change. The irony of that analogy isn't lost on us. 
In 2020, many environmental influences resulted in Oregon Food Bank receiving an organizationally-unprecedented volume of donations — to address the most severe spike of food insecurity in 100 years due to the economic wake of COVID-19. Our community also demonstrated an outpouring of support to care for their neighbors impacted by devastating wildfires and donors gave in solidarity with uprisings against anti-Black violence following the murder of George Floyd. 
We perceive this generosity as love. 
And we share these examples because also in 2020, our team began evolving our work to better reflect our theory of change. We decentered money to center love and equity and our community gave unprecedented resources — all at the same time. 
Centering love and equity hasn't impaired Oregon Food Bank's ability to end hunger. Centering love and equity is helping us to emerge stronger.   
---
"The fading away of greed and hatred is the foundation of liberation. Liberation is the 'sure heart's release' — an understanding of the truth so powerful that there is no turning back from it." — Sharon Salzberg
---
DEFINING & SCOPING LOVE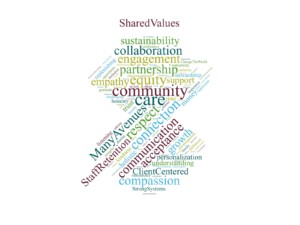 Our shared liberation — our ability to emerge stronger —  requires an understanding of what we're turning toward, not just what we're leaving behind. 
So, what is love? What isn't it? And how do we know it when we see it?
OFB's Community Philanthropy team collectively defined love. From themes identified in the adjacent word-cloud compilation of love definitions (sourced by our team), we lifted and further clarified our key hallmarks of love. 
We also defined love as not being extractive, transactional, exploitative and harmful. 
---
"When greedy consumption is the order of the day, dehumanization becomes acceptable. Then, treating people like objects is not only acceptable but is required behavior. It's the culture of exchange, the tyranny of marketplace values. Those values inform attitudes about love…Relationships are treated like Dixie cups. They are the same. They are disposable. If it does not work, drop it, throw it away, get another. Committed bonds (including marriage) cannot last when this is the prevailing logic. And friendships or loving community cannot be valued and sustained." — bell hooks
---
OUR BELOVED COMMUNITY
The more inclusive our liberation from the harmful practices of extraction, the more expansive that love-based liberation can be — rippling out from our individual and organizational experiences, through our community and washing over the institution of philanthropy itself. Liberation must therefore encompass how staff and donors, as key constituencies in our beloved community, experience philanthropy and relate to one another. 
At Oregon Food Bank, we have therefore made an unequivocal commitment: In the advancement of our mission, we will value our people — those requesting and offering resources — more than money itself. 
Valuing Donors within our Beloved Community: Community members often engage with nonprofits to make a positive difference in the world aligned with their values and passion.  What they may find, instead, is yet another iteration of a transactional marketplace manufactured by organizations desperate for resources to fuel the missions and services upon which our communities rely. That is not the experience we intend to create for Oregon Food Bank donors. 
What, then, would it take at Oregon Food Bank to realize a more regenerative, transformational donor experience imbued with love and equity? 
In our exploration, one definition of love that inspired us especially is bell hooks' definition: Love as the will to extend one's self for the purpose of nurturing one's own or another's spiritual growth. 
As overarching principles, we therefore concluded our paradigm shift to center love and equity would necessarily entail:
Oregon Food Bank Becoming a Political Home

: A space that

facilitates

an individual or organization's political journey by providing opportunities to engage in action,

cultivates

and

nurtures

growth and learning and

connects

supporters to others, moving us all toward

OFB's 10-Year Vision.
OFB Community Philanthropy Facilitating Political Journeys

: When an individual recognizes systemic problems in their community, we lead them to connect and create relationships in order to work together to build community solutions, make meaningful change and encourage growth in themselves and others.
Ending hunger isn't a partisan issue. A political home and political journey includes clients, donors, partners, elected officials and community leaders from across a diverse ideological spectrum — all engaging civically. And as a nonpartisan organization, Oregon Food Bank is well positioned to leverage these concepts toward systems change in service to our mission. 
Becoming a political home fosters abundance. We think about abundance as building authentic relationships between OFB donors and OFB's partners who are helping to end hunger and hunger's root causes. Operating with abundance also means that OFB's Community Philanthropy team is thoughtful and ethical about the funding opportunities we pursue and don't pursue — we're not competing for resources to the detriment of our partners because it takes a healthy ecosystem of organizations to achieve our bold mission and vision!  
For example, in the past year, our team has directly connected more than 1,000 OFB donors to and helped raise hundreds-of-thousands of dollars for, other nonprofits. Some of these organizations have included Mudbone Grown and Oregon Worker Relief Fund.  
OFB's Community Philanthropy team holds itself accountable to creating a political home through demonstrable integration of diverse action-taking opportunities in our programs. This reinforces the idea of philanthropy as any voluntary action for the common good rooted in a love for humankind. For example, our inclusion of voter education materials in direct mail encouraged engagement on the slate of ballot initiatives OFB supported in the November 2020 election cycle. Our intent is to ensure donors aren't just being solicited for financial donations as a form of engagement — instead, we see our supporters as holistic actors in a variety of contexts taking meaningful actions to realize resilient communities that never go hungry. 
Facilitating a political journey includes our accountability to tell the true story of hunger as an outcome not of personal choices but an outcome of systemic barriers to employment, housing and healthcare. In donor communications we unflinchingly amplify inequity (like racism, xenophobia, transphobia and more) as poverty's antecedent and hunger's root cause. Across political ideologies, we can find common ground on the issue of hunger and cultivate broader community understanding of and commitment to systems-change that ends hunger for good. 
We are increasingly committed to sometimes difficult and more nuanced conversations about the systems change needed to fulfill our mission. A political journey requires us to state explicitly that ending hunger requires more than a meal — it requires advocacy, organizing and policy work to upend systemic oppression. And telling the truth is an act of love. 
Valuing Staff within our Beloved Community: Decentering money as a performance metric for our staff is fundamental. That's because financial outcomes are beyond our control. Centering love and equity brings into focus what is within our sphere of influence: the activities that shape relationships between you — our supporters — and Oregon Food Bank. To that we can be held accountable. And being accountable to what is within one's sphere of influence is empowering and motivational. 
In the relationships we build with you, we hope to create a favorable context for your decisions about your giving to our cause — and, those decisions are ultimately not ours to make. They are YOUR decisions. 
In contrast to monetary goals, mission may be a more powerful motivator for our team's performance as 93 percent of those in our profession say they couldn't work for a charity if they didn't have a strong connection to the cause. Never upon reaching our annual revenue goals does OFB's Community Philanthropy team shut down our laptops, turn off the lights and close the office door until the new fiscal year. Money doesn't motivate us to keep going. Yet, we do keep going. And we keep going because our missions and our communities require it. We keep going to facilitate the philanthropic support from you that ensures our neighbors aren't experiencing hunger. 
Decentering money also changes the conditions that might otherwise compel or require an individual staff person's continued engagement with harm (like sexual harassment and microaggressions) in pursuit of financial outcomes. With love and equity centered, our priority shifts to protecting and retaining our people. We turn to creating a profession more inclusive and representative (including of BIPOC, transgender and gender nonconforming and immigrant and refugee communities). We aspire to build a profession wherein an individual can better expect care, respect, dignity and opportunity while bringing their holistic and intersectional identities authentically to bear in service to the critical missions our nonprofits uphold. 
This does not mean we believe an inclusive profession is at odds with strong financial outcomes (quite the opposite is true). It means we will deprioritize activities or relationships wherein strong financial outcomes result in harm to staff and compromise achieving an inclusive, diverse team and profession.
We cannot prevent harm altogether. Our team has, however, drafted this OFB Community Philanthropy Staff Bill of Rights as a public facing declaration of Oregon Food Bank's commitment to the integrity and well-being of our people. And we are backing up that Bill of Rights with departmental standard operating procedures for supporting staff and managing relationships in response to harm, as well as the provision of tools, training and resources to navigate harm.
---
"If we're not about love in our social and racial justice work — and holding ourselves accountable in and to that love — then we might as well be doing something else." —

Shiree Teng
---
MEASURING LOVE
If not in dollars, how do we measure our success? New, alternative metrics would be essential to a data-driven profession that knows virtually no other way to work. 
And while our profession is rich with options — retention rates, email click-through and open rates, response rates to appeals — nothing quite honored the complexity of love as we had scoped and defined love. Nothing, that is, until we discovered Shiree Teng's Brown Paper: Measuring Love in the Journey for Justice. Yes, a Brown Paper — Shiree notes there are already plenty of "white" papers out there and her writing captured our contemplations. 
"…in our social justice responses, we become pre- and overly-occupied not with centering love, but with campaigns on specific issues in specific places; strategic communications; turnout numbers and demographics; obsessed navel-gazing and over-intellectualizing; and stuck in the mind-centered think-analyze-write cycle. As a whole, the social sector is too short on mentions of love as tied to results and transformation: its power and potential to bring positive and fundamental change in impacted communities, on our youth and in our organizations. But isn't love the reason we're in this work? And, how do we "measure" that love and know it when we see, hear, touch, feel it?" 
As a whole, the social sector is too short on mentions of love as tied to results and transformation: its power and potential to bring positive and fundamental change in impacted communities, on our youth and in our organizations. But isn't love the reason we're in this work? And, how do we "measure" that love and know it when we see, hear, touch, feel it?"
In partnership with Shiree, we've designed new assessment tools focused on staff and donor constituencies and we've woven her theories into our own — to measure a year in love.
Measuring Love Among Donors: Maybe you completed our survey earlier this year? The assessment tool we designed prompts responses that yield attitudinal and behavioral data — indicators of our success in transforming Oregon Food Bank into a political home, facilitating a political journey and creating a regenerative, transformational experience for donors in their relationship with OFB. 
For example, we hope that our successful transformation of OFB into a political home results in your diversified engagement over time — broadening your philanthropic actions to include legislative advocacy, volunteerism, financial gift-giving, story telling and beyond. From wherever you're starting, we'd love to see your engagement expand. Another indicator of love might be your increased engagement with Oregon Food Bank partners that introduce to you with a spirit of abundance. 
If we're successfully facilitating a political journey we hope you feel as though Oregon Food Bank's communications expand your awareness and understanding of how systemic inequity drives hunger.
And what we hope to learn, most importantly, is that you feel cared for (beyond the financial value of you donations) and that you understand your engagement as an act of love. 
Measuring Love Among Staff:  Our staff assessment encourages reflection on our team's personal and professional growth. And it gauges the dosage, authenticity and duration of our team's experience with various indicators of love to help determine whether implementation of our theory of change — our efforts to value staff within the beloved community — are effective.
These indicators are structured under Four Tenets of How Love Shows Up: 
Self-love: How Community Philanthropy staff see themselves and their work to transform philanthropy.

Love Others: How Community Philanthropy staff see each other as well as supporters.

Love in Community: How Community Philanthropy staff see OFB and how OFB sees the Community Philanthropy staff.

Love as Power: How OFB shows up in Oregon with love that's fused with (advocacy and organizing) power and how the community (including donors and constituents) loves OFB in return with its (advocacy and organizing and monetary) power.
---
"Transformation is change that is profound, radical and sustainable—change

that fundamentally and indelibly alters the very nature of something. We agree that transformation is what's needed when it comes to raising resources to support social change. Fundraising and resource generation have long been pain points in a sector where there is real ambivalence about money and power." —

Robert Gass & Linda Wood, Inside Out Fundraising — Forward
---
TRANSFORMATIONAL CHANGE
The profound, radical and (hopefully) sustainable change we're making at Oregon Food Bank hasn't been a cake walk. Reimagining the work of philanthropic development in a paradigm that decenters money — it calls into question all we've learned and all we know. Without a toolkit or handbook served up on a digital platform, without ten easy steps to transformation — we have strengthened our comfort with uncertainty while steeling our resolve to change. 
James Baldwin reminds us, "Not everything that is faced can be changed, but nothing can be changed until it is faced."
Whatever the risks and fears involved in this change, fiddling around the edges won't suffice for our team — lives depend on those involved with philanthropy trying something different and trying something transformational. 
Thank you for being with us during this period of transformational change! We hope your experience with Oregon Food Bank is stronger for it.