Sen. Merkley, daughter take on IRONMAN with a purpose
December 22, 2016 – People find unique ways to mark milestone birthdays. Some take trips to exotic locations, other throw giant parties.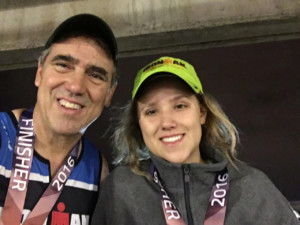 But for Senator Jeff Merkley and his daughter Brynne, they chose to take part in the 2016 Ironman Arizona on November 20. They also used the event to raise funds for three Oregon charities via the Ironman Foundation. Oregon Food Bank, Oregon Habitat for Humanity and Friends of Trees represented food, shelter and the environment.
Both said the race was grueling but they were thrilled to cross the finish line with the announcer proclaiming "You are an IRONMAN."
We are grateful for their support of the thousands of Oregonians who face hunger every day and for their belief that no one should be hungry.