Oregon Food Bank Celebrates #VoteOutHunger Election Victories
Communities unite to pass seven measures that have a direct, meaningful impact on the root causes of hunger
Oregon Food Bank today celebrated the passage of seven endorsed state and local ballot measures that have a direct and meaningful impact on the root causes of hunger. From schools and libraries, to community safety, to addiction treatment and recovery, the 2020 elections presented an incredible opportunity to pass policies directly related to hunger at the ballot box. And Oregonians turned out in unprecedented numbers to support resilient, thriving communities.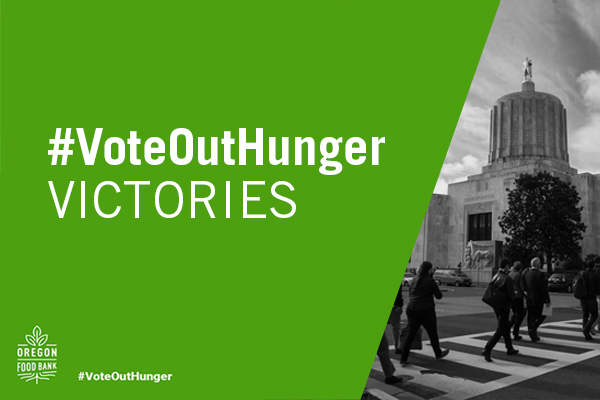 "With so many Oregonians facing income loss from recent wildfires and the ongoing pandemic, we know emergency food assistance isn't enough to solve the deep-rooted challenges that cause hunger and poverty," said Moira Bowman, Oregon Food Bank Director of Advocacy. "That's why policy change is so important. These new investments in our communities will reduce barriers for people facing hunger — and advance equity."  
In the midst of rising food insecurity and economic uncertainty — and one of the most consequential elections of our time — Oregon Food Bank launched its 2020 #VoteOutHunger campaign to raise awareness and generate support for ballot measures that help to address the drivers of hunger and poverty. Through a combination of digital advocacy, social engagement and community-led grassroots organizing, the state's leading anti-hunger organization coordinated a sustained voter education effort — mobilizing thousands of supporters and allies across Oregon in support of key ballot measures.
2020 #VoteOutHunger Victories
Campaign Finance Constitutional Amendment (Measure 107)


Unfair campaign donation policies mean the voices of wealthy donors are louder than those of our communities — especially community members facing hunger. This measure will help get big money out of politics and ensure the priorities of everyday Oregonians are heard.
Decriminalization and Treatment (Measure 110)


Black, Indigenous and other People of Color are disproportionately arrested and imprisoned. This leads to unjust debt, family separation, and loss of employment and housing — all root causes of hunger. This measure will reduce punishment for possession of some drugs and instead support peoples' health by making it easier to access treatment and recovery services.
Multnomah County Library Bond (Measure 26-211)


Libraries are an important cornerstone of a thriving community — and a critical part of the social safety net for people and families facing hunger. Libraries provide access to the internet and other valuable community resources, coupled with a safe indoor space that doesn't present cost barriers.
Portland Parks and Recreation Levy (Measure 26-213)


All Oregonians should have access to nutritious food and healthy environments that support our overall well-being. This measure will help ensure that our parks and community centers continue to connect families to vital summer meal programs and other supportive resources — and create jobs in the process.
Portland Public Schools Bond Renewal (Measure 26-215)


Our schools connect families to critical community resources — supporting children with daily meals and snacks. These funds invest in buildings and educational opportunities that help students and families thrive — especially in Black, Indigenous and communities of color.
Preschool for All in Multnomah County (Measure 26-214)


Like their K-12 counterparts, early childhood education programs connect kids and their families with food and other essential resources. This measure will ensure all three-to-four–year-olds in Multnomah County have access to this critical support through tuition-free, year-round education — regardless of income.
City of Portland Independent Oversight Committee (Measure 26-217)
This measure will create an independent body that investigates complaints and recommends community-centered reforms for the Portland Police Bureau. Made up of People of Color and other community members who disproportionately face hunger and poverty, the Oversight Committee will have the power to hold police accountable for their actions.
The endorsements are part of Oregon Food Bank's ongoing efforts to not only address hunger as it occurs in Oregon and Southwest Washington — but to prevent hunger from happening in the first place. This holistic approach incorporates traditional food banking programs, advocacy for policy change and community organizing initiatives.
"Our mission is to end hunger and its root causes" said Susannah Morgan, Oregon Food Bank CEO. "Our community knows that we are the heart of a statewide food distribution Network. Yet folx don't always see the incredible work we do alongside community members and allies to uproot hunger. These incredible partnerships helped to fuel this week's ballot victories — and represent a real step toward building communities that never go hungry."
Visit oregonfoodbank.org/voteouthunger for more information on endorsed ballot measures and other ways to get involved.
El Banco de Comida de Oregon celebra las victorias electorales de #VoteOutHunger
Las comunidades se unen para aprobar siete propuestas que tienen un impacto directo y significativo sobre las causas principales del hambre
El Banco de Comida de Oregon celebró hoy la aprobación de siete propuestas de ley avaladas a nivel estatal y local que tienen un impacto directo y significativo sobre las causas principales del hambre. Desde escuelas y bibliotecas, hasta la seguridad comunitaria y el tratamiento y la recuperación de las adicciones, las elecciones de 2020 presentaron una oportunidad increíble para aprobar políticas directamente relacionadas con el hambre en la urna electoral. Además, un número sin precedentes de residentes de Oregon acudieron a las urnas para apoyar a las comunidades resilientes y prósperas.
"Con tantos residentes de Oregon que se están enfrentando a las pérdidas de ingresos debido a los recientes incendios forestales y a la pandemia en curso, sabemos que la asistencia alimentaria de emergencia no es suficiente para solucionar los desafíos arraigados que causan el hambre y la pobreza", dijo Moira Bowman, la Directora de Defensoría del Banco de Comida de Oregon. "Por eso, los cambios de políticas son tan importantes. Estas nuevas inversiones en nuestras comunidades reducirán los obstáculos para las personas que experimentan hambre y promoverán la equidad".
En medio de una creciente inseguridad alimentaria e incertidumbre económica, además de una de las elecciones más relevantes de nuestros tiempos, el Banco de Comida de Oregon lanzó su campaña #VoteOutHunger 2020 con el fin de crear consciencia y generar apoyo para las propuestas de ley que ayudan a abordar los factores que generan el hambre y la pobreza. A través de una combinación de defensoría digital, participación social y organización comunitaria, la organización principal del estado en contra del hambre coordinó un esfuerzo continuo de educación de electores para movilizar a miles de partidarios y aliados a lo largo de Oregon con el fin de apoyar las propuestas de ley clave.
Victorias de #VoteOutHunger 2020
Enmienda constitucional sobre el financiamiento de las campañas (Propuesta de ley 107)Las políticas injustas de donativos de campaña significan que las voces de los donadores ricos son más fuertes que las de nuestras comunidades, especialmente las de los miembros que se enfrentan al hambre. Esta propuesta ayudará a sacar a los grandes capitales de la política y a garantizar que se escuchen las prioridades de los residentes comunes de Oregon.
Despenalización y tratamiento (Propuesta de ley 110)
Se arresta y se encarcela a las personas negras, indígenas y de color de manera desproporcionada. Esto genera deudas injustas, separación familiar y pérdida de empleo y vivienda, todas las cuales son causas principales del hambre. Esta propuesta ayudará a reducir las sanciones por posesión de algunas drogas y, en su lugar, apoyará la salud de las personas al facilitar el acceso a los servicios de tratamiento y recuperación.
Bono de la Biblioteca del Condado de Multnomah (Propuesta de ley 26-211)
Las bibliotecas son las piedras angulares de una comunidad próspera y una parte crucial de la red social de seguridad para las personas y las familias que se enfrentan al hambre. Las bibliotecas brindan acceso al internet y a otros recursos comunitarios valiosos, además de un espacio interior seguro que no presenta obstáculos debido a los costos.
Gravamen de Parques y Recreación de Oregon (Propuesta de ley 26-213)
Todos los residentes de Oregon deben tener acceso a alimentos nutritivos y entornos saludables que apoyen su bienestar general. Esta propuesta garantizará que nuestros parques y centros comunitarios sigan conectando a las familias con programas vitales de comidas de verano y otros recursos de apoyo, además de crear trabajos en el proceso.
Renovación del Bono de las Escuelas Públicas de Portland (Propuesta de ley 26-215)
Nuestras escuelas conectan a las familias con recursos comunitarios cruciales y apoyan a los niños con comidas y refrigerios diarios. Estos fondos invierten en planteles y oportunidades educativas que ayudan a los estudiantes y a las familias a prosperar, especialmente en las comunidades negras, indígenas y de color.
Preescolar para Todos en el Condado de Multnomah (Propuesta de ley 26-214)
Al igual que sus homólogos de K-12, los programas de educación en la primera infancia conectan a los niños y a sus familias con alimentos y otros recursos esenciales. Esta propuesta garantizará que los niños entre tres y cuatro años de edad en el Condado de Multnomah tengan acceso a este apoyo esencial a través de una educación gratuita todo el año, sin importar los ingresos.
Comité de Supervisión Independiente de la Ciudad de Portland (Propuesta de ley 26-217)Esta propuesta creará un organismo independiente que investigue quejas y recomiende reformas centradas en la comunidad para el Departamento de Policía de Portland. Formado por personas de color y otros miembros comunitarios que se enfrentan al hambre y a la pobreza de manera desproporcionada, el Comité de Supervisión tendrá el poder de hacer que la policía se haga responsable por sus acciones.
Las aprobaciones son parte de los esfuerzos continuos del Banco de Comida de Oregon para no solo abordar el hambre que ocurre en Oregon y en la zona suroeste de Washington, sino también para prevenir que el hambre ocurra en primer lugar. Este enfoque holístico incorpora los programas tradicionales de bancos de comida, abogar por el cambio de políticas y las iniciativas de organización comunitaria.
"Nuestra misión es acabar con el hambre y con sus causas principales", dijo Susannah Morgan, la CEO del Banco de Comida de Oregon. "Nuestra comunidad sabe que somos el centro de la red estatal de distribución de alimentos. Sin embargo, las personas no siempre ven el increíble trabajo que hacemos junto con los miembros comunitarios y los aliados para eliminar el hambre. Estas increíbles colaboraciones ayudaron a impulsar las victorias electorales de esta semana y representan un paso real hacia el desarrollo de comunidades que nunca pasen hambre".
Visite oregonfoodbank.org/voteouthunger para obtener más información sobre las propuestas de ley avaladas y otras formas en las que puede participar.