Our #EmergeStronger Legislative Agenda: Session Victories and the Work Ahead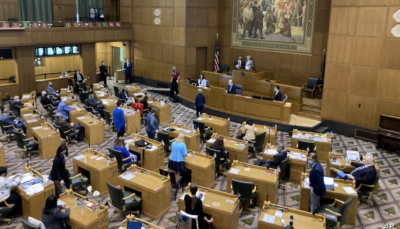 Our communities have faced unprecedented challenges over the past year. Upwards of 3,000 people lost their lives, and tens of thousands more lost jobs and income. Nearly 1 in 4 Oregonians struggled to afford food, many for the first time. And the pandemic worsened existing health and economic disparities among people of color, immigrants and refugees, single parents and caregivers, and our trans and gender non-conforming neighbors.
The 2021 legislative session offered an opportunity to pass policies and investments that we know are critical to our recovery efforts. We set out an ambitious agenda that reflected Oregon Food Bank's systemic approach to ending hunger and its root causes — from investments in emergency food assistance to reforming the policies and systems that drive poverty. And across all these areas, we worked in coalition with organizations led by Black, Indigenous and other People of Color (BIPOC) to advocate strongly for proposals that advance equity and racial justice.
Together, we urged lawmakers to rise to layered crises we face and build a foundation on which Oregon can #EmergeStronger — and this community delivered! More than 2,500 supporters advocated for meaningful change through email, phone calls and testimony over the course of the legislative session. Alongside many amazing community partners (see below), we made important progress on racial and economic justice, immigrant rights, and for Oregonians facing food and housing insecurity.
Here's what we accomplished together this session:
Major Investments in Food Security and Support for Oregon Families
Double-Up Food Bucks

expansion will improve access to fresh fruits and vegetables for Oregonians participating in SNAP food assistance programs.

Essential Needs Navigators

will now connect students with essential resources on Oregon campuses — including SNAP and housing assistance. 

Child Care for Oregon

begins to rebuild Oregon's child care sector through improved access, affordable care and fair wages for providers. 

Funding for Anti-hunger Programs

— including WIC, Senior Farm Direct Nutrition Programs and the Oregon Hunger Response Fund.

Oregon Hunger Task Force reforms

will create more equitable outcomes.  

American Rescue Plan Investments in Oregon Communities

— including affordable housing, child care, healthcare and emergency food assistance

A More Inclusive State for Immigrant and Refugee Communities
Leave No Worker Behind

makes Oregon the sixth state to include all workers in our state — including people with Individual Taxpayer Identification Numbers (ITINs) — in the Earned Income Tax Credit. 

Cover All People

extends health coverage eligibility to many Oregonians who previously didn't qualify due to immigration status. Healthcare costs are often cited as a top reason families experience hunger.

Oregon Sanctuary Promise

will strengthen laws to ensure immigrant and refugee communities can live without fear of local authorities collaborating with ICE — and prevents detention centers from being built in Oregon.

Tuition Equity

extends in-state tuition to Oregonians who are part of Compact of Free Association (COFA) communities.

Welcoming Refugees

establishes an Office of Immigrant and Refugee Advancement to operate statewide immigrant and refugee integration strategy.

Safer, More Affordable Housing for Oregonians
Protections for Renters

increases stability for renters impacted by COVID, wildfires and other crises.

Foreclosure Moratorium Extension

supports the 1-in-5 homeowners who report being worried about losing their home in the wake of the pandemic.

Rights for Unhoused Neighbors

brings clarity and guidance for local governments as they manage outdoor public spaces — ensuring reasonable ordinances that take into account the needs of people experiencing houselessness.  

Fairness in Housing

improves access to rental housing by requiring individualized assessments for returning community members in Oregon.

Healthy Homes for Oregon

creates a $10 million fund to repair and make more homes energy efficient, reducing common problems like mold.

Grace Period for Rental Assistance ensures Oregonians who have applied aren't evicted simply due to the speed applications are processed for rental assistance.

Steps Toward A Reimagination of Public Safety
Implementation of the Drug Addiction Treatment & Recovery Act

, which was passed overwhelmingly by Oregon voters.

Abolished Harmful Fees

that make it harder for community members attempting to rebuild their lives and achieve economic security post-incarceration.

A Restorative Justice Task Force

and new investments are dedicated to transforming public safety approaches and the broader justice system.

Community Oversight Boards, such as the one Portland voters approved by a 5-to-1 margin in November 2020can now be established in all Oregon cities.
Our work continues
As we celebrate these incredible victories, we also know there is so much more ahead to achieve our vision of resilient communities that never go hungry. Our elected leaders did not advance policy priorities identified and led by communities that disproportionately experience hunger and poverty — including important legislation dedicated to farmworker rights and justice reform. But we'll be back next session to make sure our voices are heard on these and other key issues! 
Safer Communities:

Significant investments are needed in community-based, culturally specific solutions that ensure everyone's safety. Limits to unnecessary police stops and arrests and transformation of community supervision are also key to promotion of true public safety. 

Farmworker Justice:

All workers must be covered by fair labor laws. Agriculture workers remain ineligible for overtime pay. Both California and Washington have taken measures to address this and it's time for Oregon to do the same.

Universal Legal Representation:

All people involved in court proceedings must have access to a lawyer. Legal representation is critical for keeping families together, including many agricultural and other essential workers who are engaged with the immigration system.  

Support for Black, Indigenous and other Farmers of Color:

A long history of exclusion and racism has left communities of color struggling to become established farmers and influencers of the Oregon food system. Investments must be made to support BIPOC farmers and other Oregon innovators to create a more equitable food system.

Health Equity for COFA Communities

– we must invest in outreach for COFA communities will help us close the gap of uninsured Oregonians. 
We cannot achieve food security when the people who grow, pick and process our food are not fairly paid and supported for their labor. And we certainly can't end hunger while our communities face under-resourcing, criminalization of poverty and lack of due process under the law. Oregon Food Bank is committed to continuing to build support and momentum for these and many other critical policy reforms.

Huge Appreciation for Our Coalition Partners
There are so many of our partners we would like to thank for co-creating and leading and these efforts, including:

American Heart Association

Asian Pacific American Network of Oregon (APANO)
Black Oregon Land Trust
Causa
Children's Alliance
Coalition of Communities of Color
COFA Alliance National Network
Fair Shot Coalition
Family Forward Oregon
Farmer's Market Fund


Mudbone Grown




Native American Youth and Family Center (NAYA)




Neighborhood Partnerships




Oregon AFSCME




Oregon Center for Public Policy




Oregon Community Food Systems Network




Oregon Farmers Markets Association




Oregon Health Justice Recovery Alliance

Oregon Housing Alliance




Oregon Just Transition Alliance




Oregon Law Center




Oregon Student Association




Our Children Oregon




Partners for a Hunger-Free Oregon




Partnership for Safety and Justice


Pineros Y Campesinos Unidos del Noroeste


Portland Farmers Market




Stable Homes for Oregon Families