Can't Hide Our Pride | OFB Celebrates Pride Month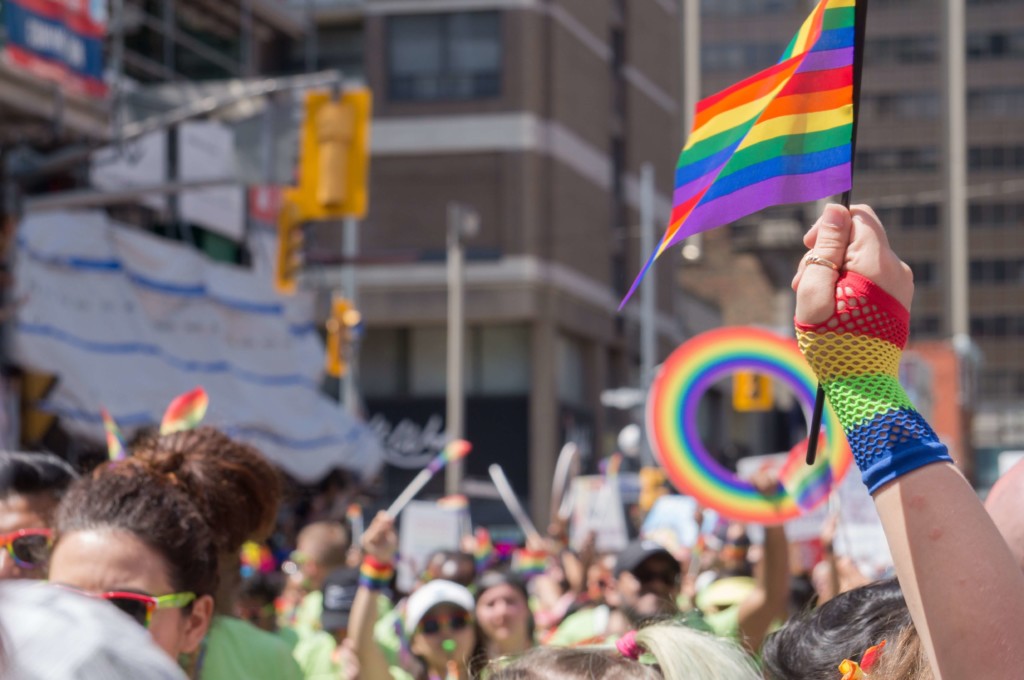 Happy Pride Month, OFB Community!
June is a month of celebration in recognition of the 1969 Stonewall Uprising and the continued resistance and activism of the LGBTQIA2S+ community. Pride is a reminder that everyone –regardless of their identities – is deserving of a life full of love, acceptance and the ability to exist unapologetically, unafraid and without shame. To achieve this vision of a peaceful existence for all, we intentionally and actively recommit to standing against cis-heteronormative violence, hate and bigotry. In addition, the lessons gained from the Stonewall Uprising serve as a reminder to commit ourselves to ending police violence and terror for all oppressed people.  
In the spirit of Pride, we'd like to elevate our beloved coworker, Darcie Spar (she, her, hers), and share her reflections on what this month means to her: 
"Happy Pride Month! Time to get out the rainbow flags, glitter, pride rings, pink triangles, balloons, or whatever festive gear or accessories you choose! June is a time to both celebrate how far we have come AND to (re)commit to continuing to advocate for justice, health, and safety for the queer community.
When I first came out in college, I joined the GALA (Gay and Lesbian Association) student group. By the time I graduated, the group's name had been changed to LGBA (Lesbian, Gay, Bisexual Association). Now it's much more common to see LGBTQ+, L.G.B.T.Q.I.A.+. or LGBTTTQQIAA as a wider variety of identities are included. (The student group at my college is now called the Rainbow Alliance.)
During my time at Willamette University, I volunteered with the No on 9 and No on 13 campaigns. These anti-gay ballot measures were spearheaded by the OCA (Oregon Citizens Alliance). Luckily, they were both unsuccessful. In my junior year, Willamette hosted a section of the NAMES Project AIDS Memorial Quilt. This display brought to life the massive impact of that pandemic, especially on the queer community. Today the Quilt is the largest ongoing community folk art project in the world.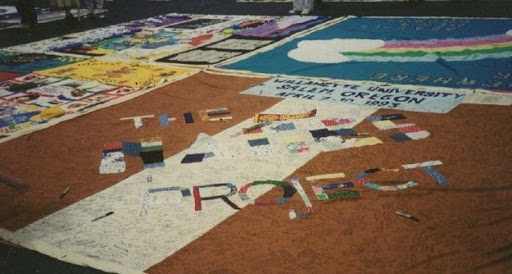 As I graduated from college and moved with my partner to a small town in Illinois – and navigated being a lesbian in those two very different environments – I would never have believed that (legal) marriage would be an option for me. Then in June 2015, the U.S. Supreme Court made same-sex marriages legal in all 50 states!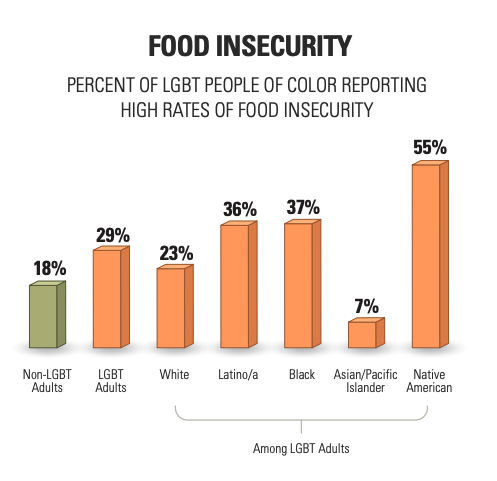 As we celebrate those victories, and participate in Pride events (mostly still virtual), let us remember that our OFB priority equity constituencies include transgender/gender non-conforming folx, and that hunger and poverty disproportionately impact this community. A 2015 report (see graph) showed the difference in food insecurity between LGBT adults (29%) and non-LGBT adults (18%). And queer folx of color face compounded barriers and systemic inequities. The 2015 U.S. Transgender Survey found that the unemployment rate among transgender people of color (20%) was four times higher than the U.S. unemployment rate (5%).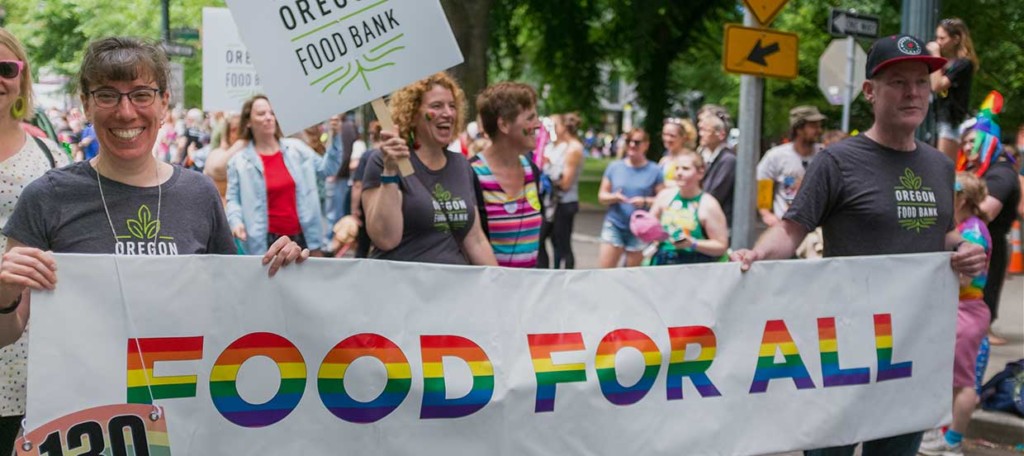 This June, I am proud to be part of OFB's work to create a stronger, more equitable future for all communities – and hope that in future Pride months we can show our OFB pride in the parade, like we did in this photo!"
We are so appreciative to Darcie for sharing her story. Join in the celebration and partake in some upcoming Pride events:
Pride Month serves as an opportune time to build upon the wisdom of the LGBTQIA2S+ activists that paved the way for the Gay Liberation Movement. We offer our highest and deepest gratitudes to the many Black queer and trans feminists – such as Marsha P. Johnson and those of the Combahee River Collective – whose legacies live on in the continuing fight for an intersectional LGBTQIA2S+ liberation movement. 
To elevate additional queer narratives, we invite you to reference these resources and platforms:
Thank you for all you do to end hunger and its root causes.