Oregon's triple tax whammy – by David Sarasohn
December 12, 2017 – The Senate's massive, middle-of-the-night, partly hand-written, redesign of the entire U.S. tax system created a huge opening for hunger.
Not an opening for efforts against hunger.
An opening for hunger itself.
"A lot of folks are going to get clobbered," forecasts Oregon Sen. Ron Wyden, sounding groggy and gravelly as he rode to a Molalla town hall, about 14 hours after a 2 a.m. Senate vote on the bill. "Fewer people will find it possible to give to charity, and the need is going to go up."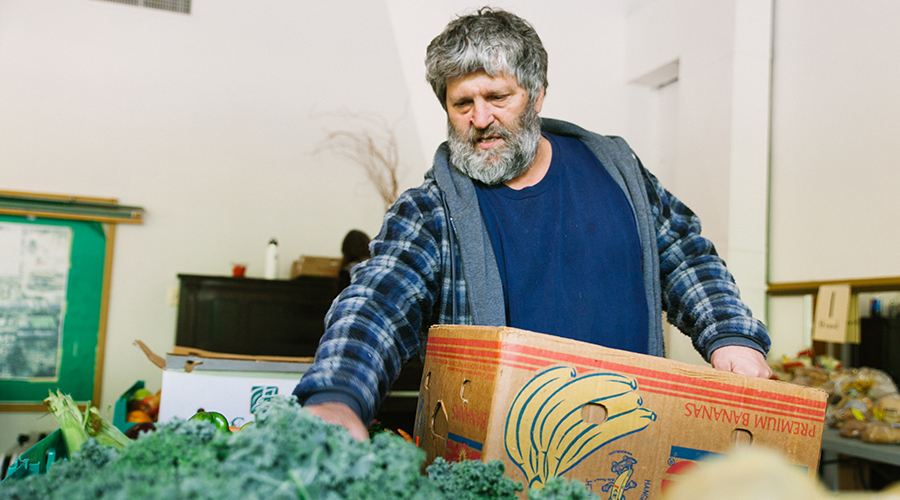 Aside from that, it's a tremendous advance.
To pay for hacking the corporate tax rate from 35 percent to 20 percent, for cutting taxes on high incomes and for slashing taxes on multimillion-dollar inheritances – and pretending that the package will only increase the national debt by a trillion dollars – the bill lands in various ways on the middle class, raising the personal exemption but cutting itemized deductions. And to make the math work – or to pretend the math works – the low-income cuts are temporary, while the corporate and upper-income cuts are permanent.
"Most of the people we're serving will actually see their taxes go up," calculates Oregon Food Bank CEO Susannah Morgan. "It's bad in the short term, and worse in the long term. I see this as being in every way hurtful to Oregonians experiencing hunger."
As Wyden points out, more people are likely to need food help, and fewer people are likely to have the disposable income – or the charitable deductions – to let them help.
It's a recipe for hunger.
And with the current interest in regional recipes, it naturally focuses more on certain areas. It hits particularly hard at places like Oregon with high state income taxes, which will no longer be federally deductible – although they have been deductible ever since the federal income tax was permanently enacted in 1913. So, in addition to the hits on the middle class nationally, great numbers of Oregonians will lose their largest income tax deduction.
"This is definitely going to ripple through Oregon," explained Wyden, sounding even more gravelly. "There's a lot of people going to get hit by a 'double whammy.'"
And not only by the tax changes.
The Senate bill also ends the Affordable Care Act's mandatory insurance requirement, a change that Wyden calls "a dagger in the heart of the ACA." Over the next few years, the change is expected to leave 13 million more Americans without health insurance. Since hundreds of thousands of Oregonians gained health insurance from the ACA, this could easily triple Oregon's whammy.
Not that the whammy is just ours. The Center on Budget and Policy Priorities, in Washington, D.C., estimates that in Oregon, the changes will increase annual insurance premiums for a family of four by an average of $1,650. Considering the huge numbers of people driven by health expenses to food pantries – and to bankruptcy court – the impact on Oregon, and the Oregon Food Bank Network, could be devastating.
And the ripples will keep rippling.
"Republicans are already saying 'entitlement reform' and 'welfare reform' are next up on the docket," warned Wyden on the Senate floor. "But nobody should be fooled — that's just code for attacks on Medicaid, on Medicare, on Social Security, on anti-hunger programs."
Actually, Wyden was wrong.
There's nothing coded about it.
House Speaker Paul Ryan has been clear that after tax cuts, in 2018 the House will be looking at cutting back Medicare, Social Security and food stamps. He's particularly interested in states setting up work requirements for food stamps.
"We have a welfare system that's trapping people in poverty and effectively paying people not to work," complained Ryan, envisioning recipients refusing jobs, preferring to live large on their average $100 a month in food stamps.
Wyden's Republican opposite on the Finance Committee, Chairman Orrin Hatch, has also been clear on the next steps. Explaining the delay in renewing the Children's Health Insurance Program – covering 9 million kids across America and 80,000 in Oregon – the supporter of the huge new tax cut explained, "The reason CHIP's having trouble is we don't have any money anymore."
Besides, "I have a rough time wanting to spend billions and billions and trillions of trillions of dollars to help people who won't help themselves, won't lift a finger, and expect the federal government to do everything,"
Susannah Morgan has some trouble recognizing this description of the people coming to Oregon food pantries.
Softly she explains, "That's not my truth. The people experiencing hunger in Oregon are too old, too young or already working. I have never met harder-working people than in food pantry lines."
A huge number of working-age Oregonians getting food assistance, or food stamps, are already working.
Now, they're in line to get worked over.