Community Partnerships — A New Local Focus
At Oregon Food Bank, we believe the best ideas for community prosperity are developed by and with local representative leadership. Each community has the expertise to build a healthier, more equitable and more resilient local food system. When we bring together local leaders — people with lived experience of hunger, community leaders, and industry partners — communities thrive.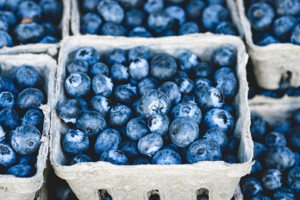 From the pandemic to wildfires raging across our state, 2020 has tested the strength of the Oregon Food Bank Network. Local partners stepped up to creatively make a difference for the 1 in 5 people experiencing hunger across our state. 
We want to take a moment to say thank you to the amazing local partners who are helping us all emerge stronger from these crises. 
When the pandemic hit, the federal administration implemented the Farmers to Families Food Box Program, a short-term emergency initiative. In addition to providing emergency food boxes with fresh produce, dairy, and meat to families, our food industry partners asked what they could do to help and rolled up their sleeves to get food out to communities in need…
Sysco brought trailers and refrigeration units to our partner agencies. This allowed partners to ramp up distribution and meet the dramatically increased need. In the entire year of 2019, Northeast Emergency Food Program (NEFP) served 42,000 clients and in April, they served over 47,000! Thank you Sysco for making this possible. 
Pacific Coast Fruit, another local company participating in the Farmers to Families Food Box Program, had staff waiting to fulfill the program's increased need and in the meantime, volunteered to bag truckloads of beets and carrots to be distributed to families in need. 
Other community partners made a critical difference by donating directly, engaging their community in peer-to-peer fundraisers, and getting creative with in-kind donations….
Ajinomoto, donated 72,000 pounds of Udon noodles, allowing OFB to meet culturally specific needs across our communities. 
In addition to running a fundraiser, our friends at 2 Towns Cider, headquartered in Corvallis, offered volunteer drivers and their fleet of electric vehicles to drop off goodie boxes to supporters joining the virtual Oregon Harvest Dinner, making OHD special even though we couldn't be together in person!
Ruthie & Olive, a small local jewelry business, created a fundraiser to raise 3 meals for each necklace sold and has donated over $20,000 to hunger relief over the years. Ruthie shares, "This jewelry and inspirational card line is my dedication to my younger self, who I wish I could go back and hug, and to my daughter. I'm hoping, by creating this jewelry line, it will cause a ripple effect of love and encouragement."  
ComedySportz Portland (CSz Portland), is a local comedy improv group and has been donating to OFB since 1999! In pandemic times, they are doing a weekly livestream comedy improv show and asking each week's audience to donate to OFB. 
Lawry | de Freitas Wealth Management reached out as soon as COVID hit and have been making meaningful monthly donations. Cherry Creek Mortgage is running a peer-to-peer fundraiser and challenging their community to raise $100,000 for hunger relief. 
Congregation Beth Israel recently wrapped up their High Holiday Fundraiser supporting the entire Oregon Food Bank Network. They raised $35,000 overall, with donations heading to IRCO, NARA, Virginia Garcia Memorial Health Center, NE Emergency Food Program, Stone Soup, and Lift Urban!
Thank you to each and every one of our partners making a difference in your local community! You have showed how resilient we are when we work together and we know that with your support, our communities will emerge stronger.
Aramark – Nike
Archaeological Investigations NW
Avangrid Renewables
Axiom Eco-Pest Control
Bluestone & Hockley Real Estate Services
CopperPoint Insurance
Dana Herbert Accessories, LLC
Delta Fire, Inc.
Inland Electric, Inc.
Mackenzie
New Seasons Market
Northwest Community Credit Union
NW Natural
Oregon Beverage Recycling Cooperative
Pali Consulting Inc.
Pelican Brewing Co.
Polar Beverages
Portland Timbers and Thorns FC
Scenic Fruit Company
Schnitzer Steel Industries
Sock It to Me
Subaru of America
Vista Capital Partners, Inc.
Washington County, National Hunger & Homelessness Awareness Week
Westward Whiskey
Wild Friends Foods